For the longest time, Dan and I have both been wanting one of those fancy, free-standing, rolling Craftsman tool chests. However, neither one of us are willing to cough up $400+ for one, no matter how cool they are. But nevertheless, every time we are in Sears, we pass them by with longing in our eyes (
Note: did you know they make a PINK one now??! Whaaaa??
). But the more I thought about it, the more I realized they don't really hold that much - nothing big at least. He has the small metal chest he fixed up for his basement
man cave
for all the little things (nails, screws, small tools, tape, glue, misc.) but he was using an old bookcase to house the drill, nail gun, drill bits, socket set, saws, etc. Stuff that came in big boxes and wouldn't fit in the standard rolling tool chest. I decided to not only remedy this situation, but also finally give us the Craftsman tool chest we've been coveting.
So the hunt was on to find a dresser. I knew it couldn't be just any old dresser, either. Not like the ones I usually find by the
side of the road
. This one had to be specific. I searched some local thrift stores and came home with this beauty:
The price tag was a little more than I would normally spend (considering I usually get them for free), but I justified it by knowing I found something that would work perfectly!
Can you visualize it yet??
With Dan being out of the country for work this past week, I decided to make it a surprise for when he gets home.
I started by sanding the whole thing down to give the paint something to stick to. This is a shot of the top of the dresser after about 10 minutes - it was sooo easy! Sanding is by far my least favorite part of a project and I only wish they all went this well.
After sanding it all down, I applied 2 coats of Rustoleum Sunrise Red oil-based paint. A little messier than latex paint, but it gave it a nice, crisp, shiny finish (the goal was to make it look more like metal than wood).
I debated on the color of the drawers. Red or black??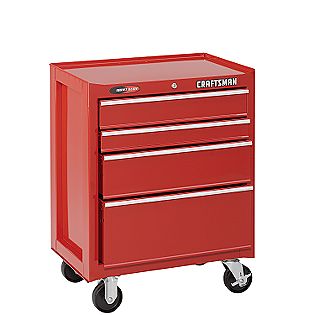 I decided on black because I liked the contrast and didn't want to overdo it with the red.
Finished product:
Pretty good, huh? I lucked out with the handles. The existing ones were already perfect for what I needed, so all I did was spray paint them silver.
I cut off the legs and added rolling casters.
I added black industrial handles to each side to make it easier to move around.
I purchased a roll of ribbed vinyl floor runner from Home Depot and used it to line each drawer.
And because it looked so darn cool, I posed it with some of Dan's antique tools he has in the garage.
There's even going to be a special tool surprise for him inside :)
Total cost was around $75 (remember I spent quite a bit on the dresser itself, but that's because it didn't need ANY modifications!) which is a fraction of the cost of buying a "real" one at the store. Plus, this can hold all the bigger stuff that these chests don't usually fit. Overall, I'd say it's a sweet deal, and a sweet surprise!!